National Science Week: Celebrating the GBR, research with AIMS & Citizen Science
Great Barrier Reef Event Series & Citizen Science Challenge
ACEMS received National Science Week Queensland seed funding to host an event series, pictured below, celebrating the Great Barrier Reef, important research with AIMS, and citizen science, together with partners including AIMS and harnessing the "Virtual Reef Diver" research and platform co-created with AIMS.
The event series was a huge success, raising public awareness about the Great Barrier Reef, attracting national and local media, a Ministerial visit, Queensland Chief Scientist support, 55,000+ citizen science classification contributions (from hundreds of members of the public, including schools across the country), and promoting ACEMS and AIMS research; plus ACEMS-supported MathsCraft program, and ACEMS PhD student Katie Buchhorn and her book "Wondrous Worlds" celebrating mathematics, amongst others.
Overview of ACEMS National Science Week 2021 Great Barrier Reef Event Series & Challenge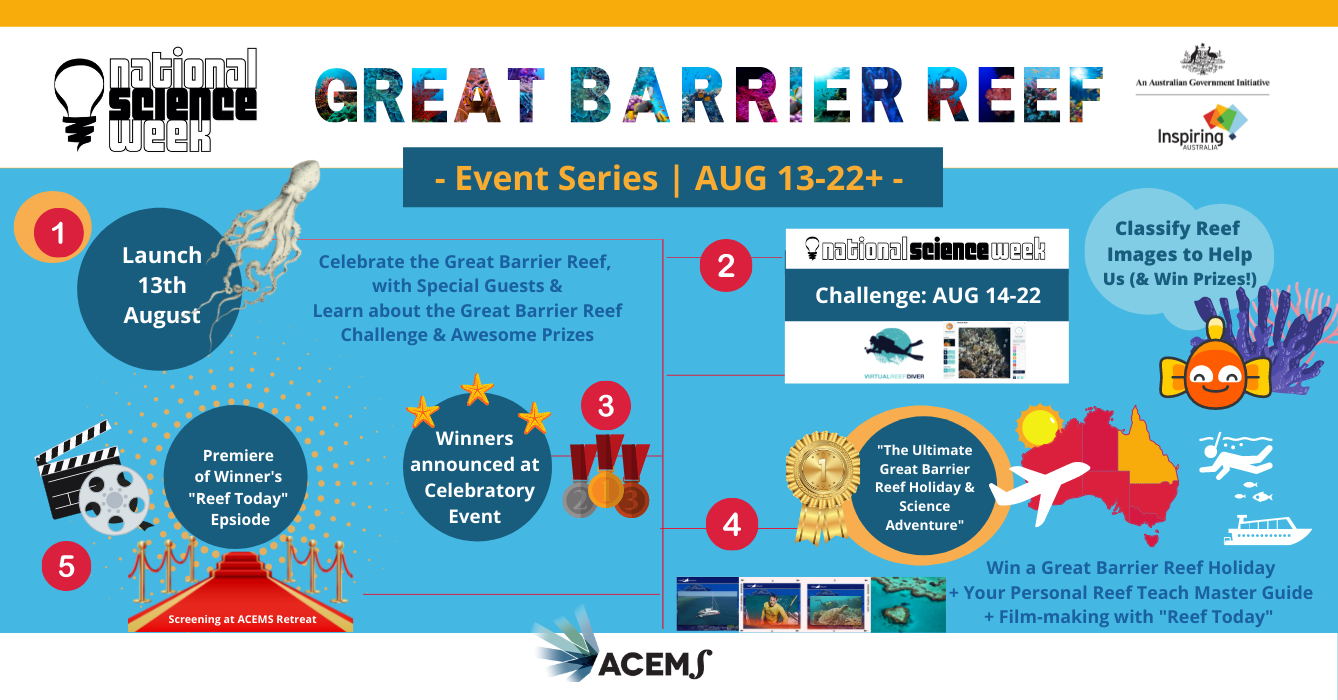 On the eve of National Science Week, ACEMS hosted an online launch event featuring 16 guest speakers (from AIMS, ACEMS, ReefTeach, Calypso Productions and university), and shared recordings of presentations online for further promotion via social media
Amongst the guest speakers were researchers from AIMS who collaborate with ACEMS including: Juan Ortiz who provided an overview of AIMS, its work, and exemplar collaborative research with ACEMS; Manuel Gonzalez-Riveros who spoke about the use of AI and ML technology for reef monitoring, including the collaborative research with ACEMS; and Cherie Motti who spoke about her research at AIMS, including on COTS and microplastics, and collaborative research with ACEMS.
All guest talks are available on the ACEMS YouTube channel on this playlist.
Guest Speakers Featured by ACEMS for National Science Week 2021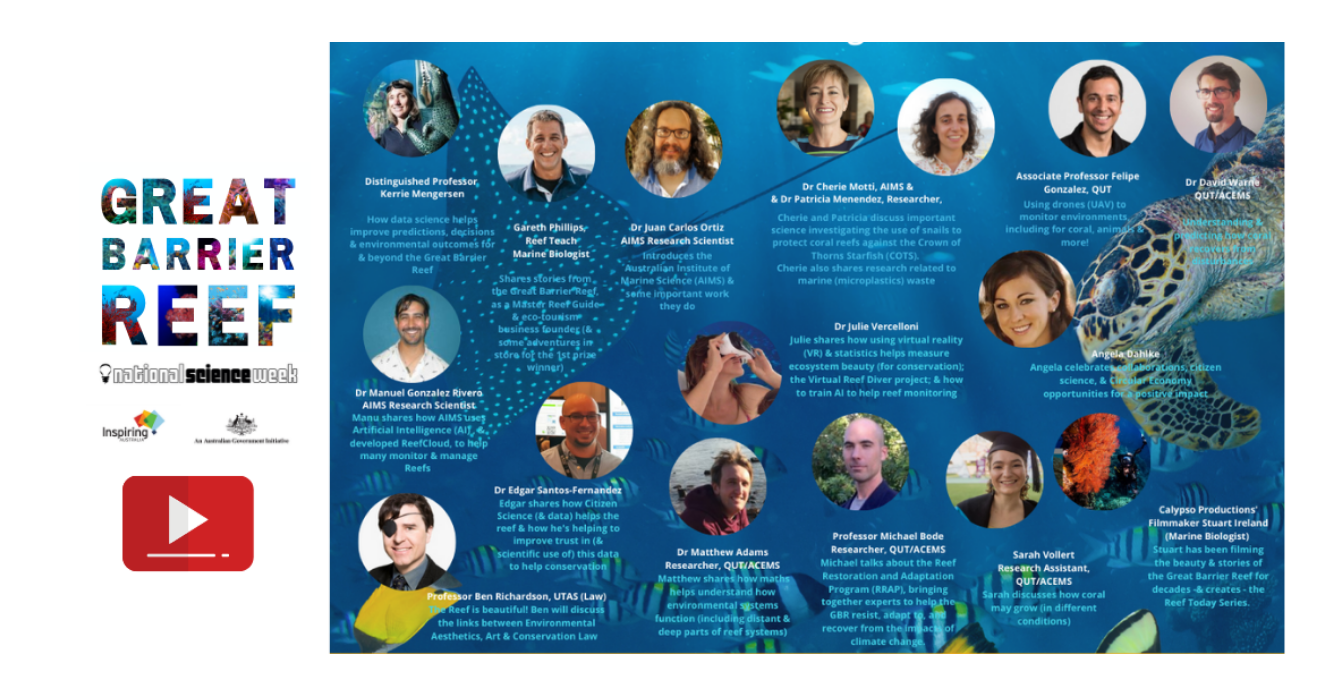 ACEMS National Science Week Launch Event Guest Speakers from AIMS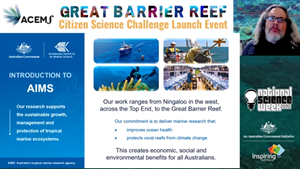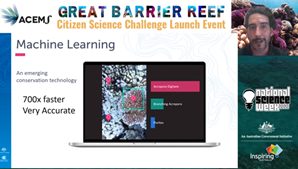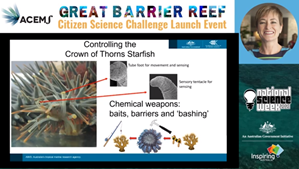 Queensland Ministerial Visit to ACEMS QUT - Promoting GBR Research & Citizen Science
Queensland Minister for the Environment and the Great Barrier Reef and Minister for Science and Youth Affairs Meaghan Scanlon MP visited ACEMS' QUT node for National Science Week. The purpose of her visit was to meet with researchers and learn about research and citizen science relating to the Great Barrier Reef. The ministerial visit also helped to promote ACEMS National Science Week citizen science challenge.
Visit by Queensland Minister to ACEMS QUT for National Science Week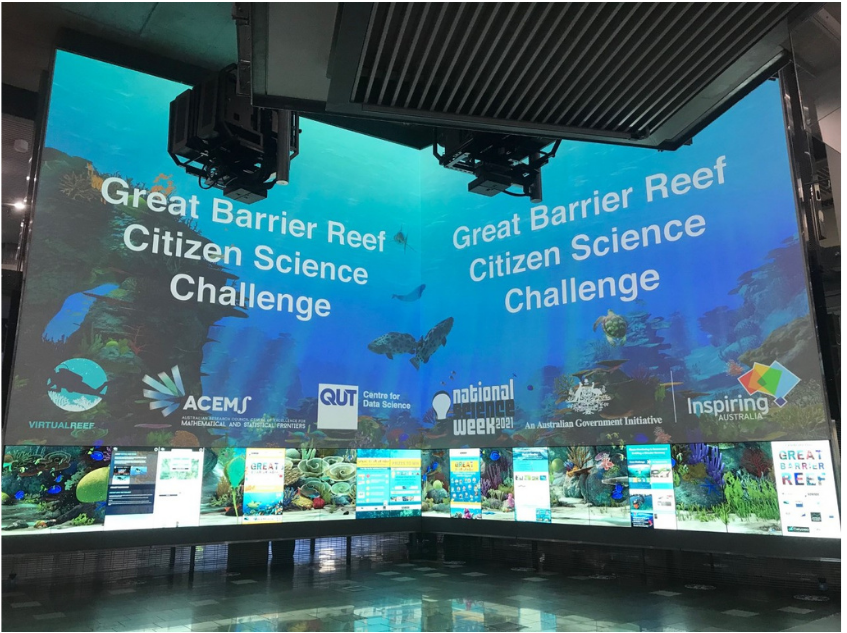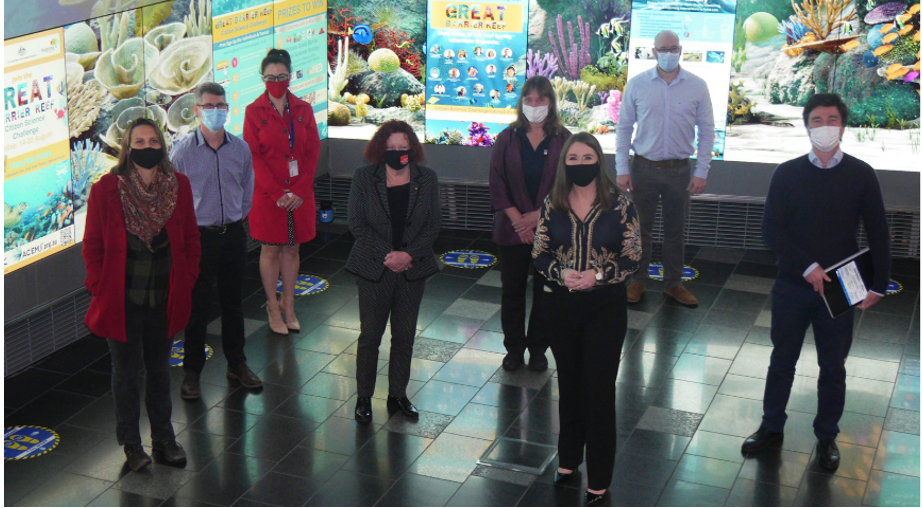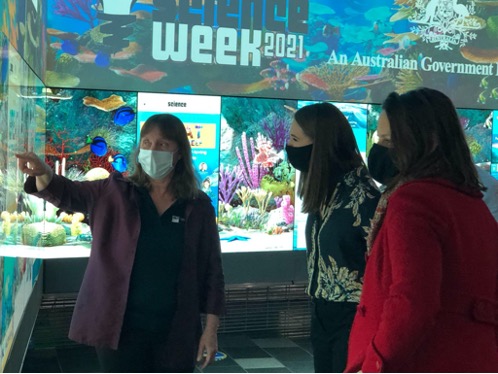 "Virtual Reef Diver' Citizen Science Challenge
The National Science Week citizen science challenge invited participants to help classify images of the Great Barrier Reef via the Virtual Reef Diver platform (originally developed by ACEMS with AIMS and other partners).
The Challenge was promoted widely by the media with multiple news articles, radio interviews and television broadcasts promoting the event. The event was further promoted on social media by ACEMS, the National Science Week and many other accounts. This attracted a diverse range of participants geographically across Australian and multiple demographics, including primary and secondary school students, teachers and other interested members of the community.
Collectively, Virtual Reef Diver citizen scientists contributed 55,000+ classifications of reef images during National Science Week. This contribution adds to earlier impact realised from the project, as highlighted in this Virtual Reef Diver promotional video created with the Great Barrier Reef Legacy. This work improves our observational data and, in turn, our models and predictions of reef coral cover and health. Additionally, it supports research to improve trust in citizen science data for conservation such as research by ACEMS AI Edgar Santos Ferndandez and CI Kerrie Mengersen: https://www.nationaltribune.com.au/reef-in-two-gears-new-patterns-of-coral-recovery-discovered/.
Many of our citizen scientists developed their classification knowledge and ability to high levels, with 97 attaining the top two levels, becoming "experienced' and "super citizen scientist" classifiers. Participants efforts in helping classify coral reefs was acknowledged in an ACEMS' Newsletter published during National Science Week: newsletter thanking participants.
ACEMS National Science Week Citizen Science Challenge - Participation and Contribution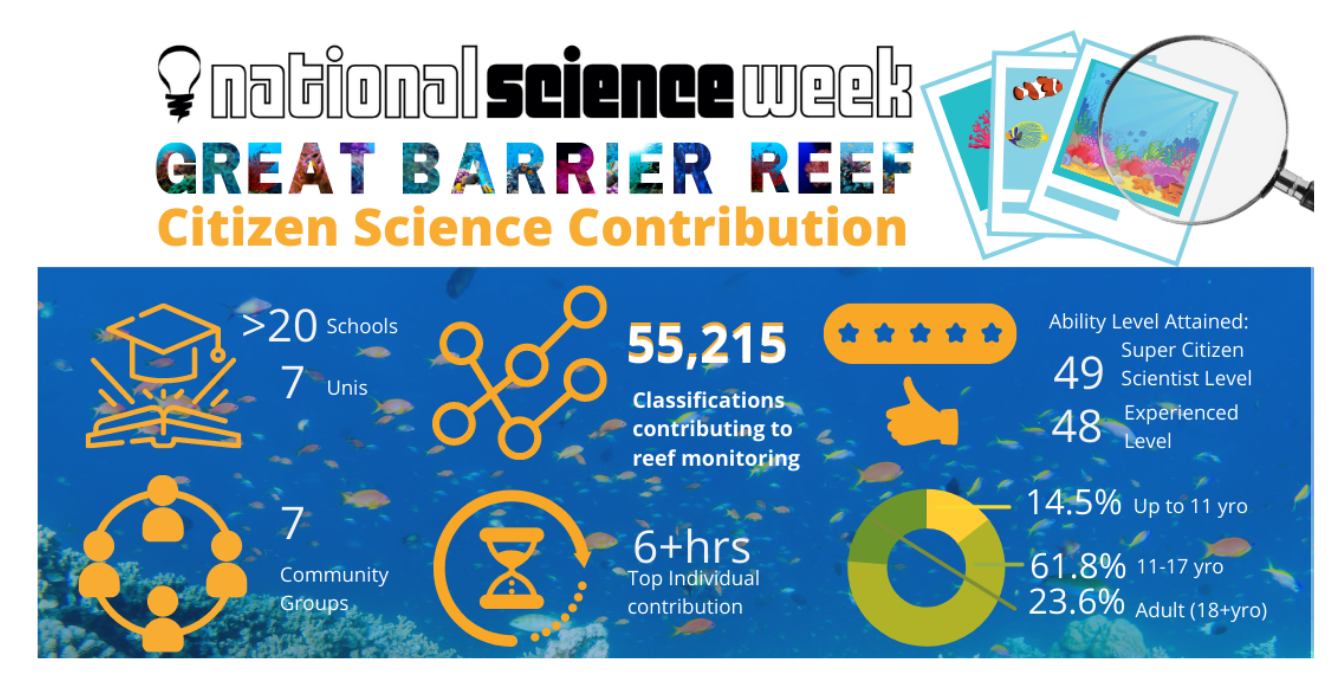 Citizen Science Challenge Winners & Celebratory Event with Chief Scientist
ACEMS hosted a citizen science celebratory event on 10 September 2021, with VIP guest speaker Queensland's Chief Scientist and individual and school winners of the challenge. Prizes were awarded for the top individual and team participants, plus other top performing contributors.
The prizes included the "ultimate Great Barrier Reef citizen science adventure holiday" plus ACEMS STEM research inspired Virtual Reef Diver card game, MathsCraft subscriptions and ACEMS PhD student Katie Buchhorn's Wondrous Worlds books.
Video recordings of the event can be found on the ACEMS YouTube channel. A selection of videos featuring the event and prize winners are given below:
Virtual Reef Diver Citizen Science Challenge - 1st Prize - Individual and Team Winners
"Reef Today" Film Celebrating Citizen Science Winner & Their Great Barrier Reef Holiday
Watch the "Reef Today" film featuring the winner of ACEMS National Science Week "Virtual Reef Diver" Citizen Science Challenge, high school student Teleah McGrigor, during her science adventure holiday to the Great Barrier Reef and Cairns, hosted by ReefTeach and Calypso.
Highlights from the Reef Today Film Featuring Winner Teleah McGrigor on her Holiday to the GBR with ReefTeach master reef guides and filmed by Calypso Productions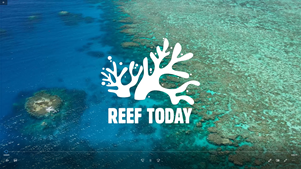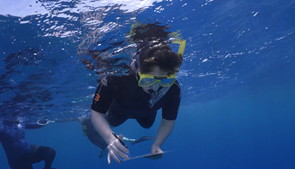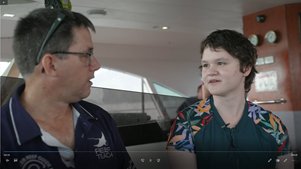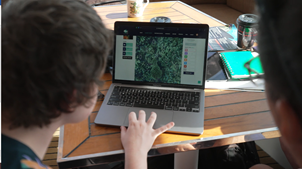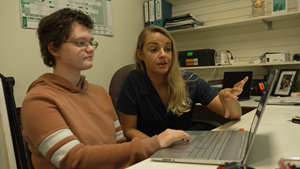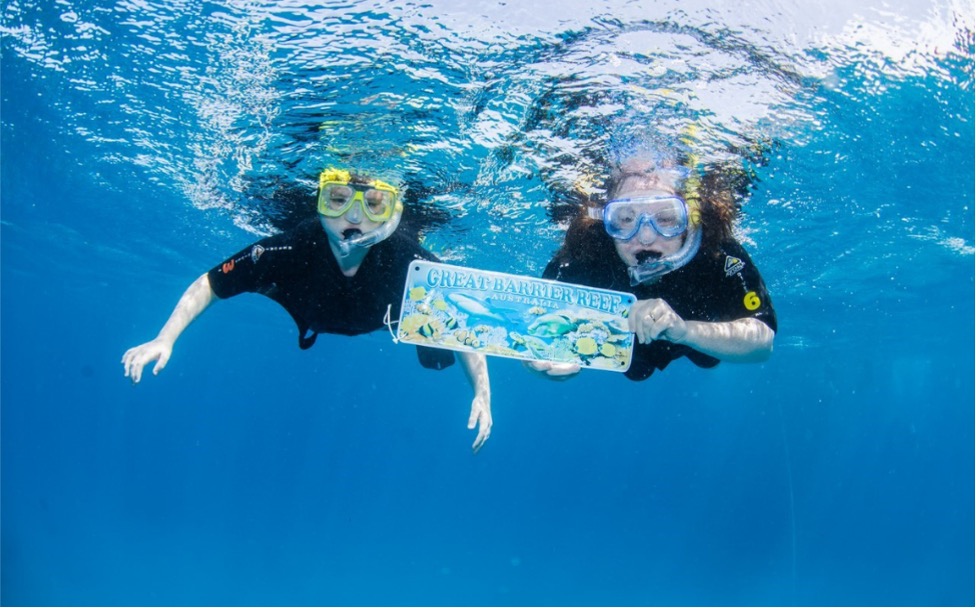 Future Opportunities:
Schools, teachers, and students, from across Australia, have already expressed interest in participating in future challenges as "Virtual Reef Diver" citizen scientists.
ACEMS has received letters of support from various organisations for a similar initiative in 2022 (including Queensland Office of the Chief Scientist, Reef Teach, Great Barrier Reef Legacy Foundation, and Calypso Productions).
Grant applications have been submitted to fund and further scale such an initiative.
Quotes from National Science Week Virtual Reef Diver Citizen Science Participants
I thoroughly enjoyed the celebratory event on 10 September and would like to thank you and everyone at ACEMS and Virtual Reef Diver who helped hold such a great competition. I found classifying images of the reef a very exciting and enriching experience and I look forward to continuing to participate in this project in future… I am looking forward to seeing what happens next time."
Samuel Soo, 2nd prize individual, student, NSW
It was a privilege to be involved in the project. I am interested to follow up on further Barrier Reef projects."
Peter Yager, NSW Teacher, Top Honours Mention
We are very excited to have placed 1st in this challenge and the activity was incredibly beneficial for my class. The girls will be attending Orpheus Island in Term 4 where one of the activities is identifying corals and marine life as part of practising data collection and analysis… empowering youth and enabling citizen scientists is a critical tool in the future of the Great Barrier Reef. By nature of our unique location here at the Strand, we're reminded every day how incredibly important credible data is and how this can contribute to reef monitoring..."
Holly Whiting, Science Teacher at St Patrick's College Townsville (team 1st prize)
We ran the Virtual Reef Diver as part of our activities during science week, and were very pleased with the number of boys who participated in the activity. We are very excited with the result St Greg's achieved…Thank you very much for the prizes, and we are more than happy to enter the virtual Diver activity during science week again next year."
John Dinnen, Leader of Learning- Science, St Gregory's College (interstate team prize winner)