2021 Overview
ACEMS' partnership with QDAF has been a strong and productive partnership since QDAF became an Industry Affiliate Member in 2018.
Highlights and key achievements for 2021 include:
Several ongoing research projects with ACEMS students and research findings published in scholarly refereed journals.
QDAF engaging at ACEMS Meet-and-Greet event.
Research Collaboration
ACEMS researchers, Steven Psaltis and Ian Turner, together with commencing PhD student Patrick Grant, continued to work closely with QDAF's Chandan Kumar, and other collaborators, to assist the forest sector to realise economic and environmental improvements.
Their work has focused on the optimisation of the wood value chain through enriching the timber industry's capability in precision forestry. This fundamental research is important because the success of the sector is nowadays increasingly more dependent on value optimisation of their resource, rather than the traditional volume optimisation.
They have used a combination of advanced data analytics, mathematical modelling, and simulation, to help the Queensland forestry industry better predict the value of their Southern Pine plantation resource. Findings from this research have informed industry to realise economic and environmental benefits. This research can inform the best time to harvest, as well as the optimal sawing pattern, and drying schedule, to help maximise profits - and reduce wood wastage.
Australia's Forestry Industry's Contribution to the Australian Economy
Patrick Grant commenced his PhD at QUT under the supervision of ACEMS CI Ian Turner and AI Steven Psaltis on a project related to the ACEMS-QDAF collaboration. Patrick's research aims to:
develop a comprehensive mathematical model to advance understanding of the impact of moisture migration on the structural integrity of laminated timber products, using QDAF experimental data for model validation; and
identify mechanisms that can prevent long-term damage to building structures when exposed to harsh Australian climate conditions, thereby benefiting the timber and construction industry and property owners.
Timber Modulus of Elasticity Project
Sawn timber is the main product manufactured from softwood resources and board value depends strongly on its mechanical performances. Wood stiffness is thought to be a key factor driving forest value, and the non-structural and structural grades of boards are specified based on product stiffness quantified by the modulus of elasticity (MOE). The MOE dictates the mechanical grade of the board, and the market value of the board is directly linked to its grade. The market value of a board is based on individual grading performance, with structural grade boards worth more than four times the value of non-structural boards. A significant outcome of the work was the use of increment cores to enhance predictive capabilities of the MOE of sawn boards. Research found that multiple increment cores collected at different heights in a tree could provide marginally increased accuracy over a single breast-height core.
Furthermore, approximately 50% of the variability of the static bending MOE of individual boards is explained by the predicted MOE obtained from a single increment core taken at breast height.
Outputs of this latest work included two journal articles published in the Annals of Forest Science:
Kumar, C., Psaltis, S. T. P., Bailleres, H., Turner, I., Brancheriau, L., Hopewell, G., Carr, E. J., Farrell, T., & Lee, D. J. (2021). Accurate estimation of log MOE from non-destructive standing tree measurements. Annals Of Forest Science, 78(1), 8. https://doi.org/10.1007/s13595-021-01031-w
Psaltis, S., Kumar, C., Turner, I., Carr, E. J., Farrell, T., Brancheriau, L., Bailléres, H., & Lee, D. J. (2021). A new approach for predicting board MOE from increment cores. Annals of Forest Science, 78(3), 78. https://doi.org/10.1007/s13595-021-01093-w
The Forest and Wood Products Australia project
The Forest and Wood Products Australia project conducted in association with several university and industry partners – including ACEMS researchers AI Steve Psaltis, CI Ian Turner and AI Troy Farrell – saw mathematical modelling techniques applied to improve returns from Southern Pine plantations in South-East Queensland and Northern NSW through innovative resource characterisation modelling.
The research found that sigmoid curves developed to fit the measured data captured the variation in wood properties from the pith to the bark quite well and provided valuable information on product performance.
The cambial age versus ultrasound MOE allowed wood practitioners to predict the age when a stand will produce high quality wood, which improved their knowledge of how to value pine plantations.
Project Modelling the Impact of Continuous Drying
ACEMS researchers also worked on a related project with QDAF to model the impact of continuous drying on key production and performance criteria of engineered wood structural elements.
Their numerical simulations showed excellent agreement with the experimental drying data, and the research informed industry on the suitability of this drying technology for their current timber processing operations.
Learn more about these projects: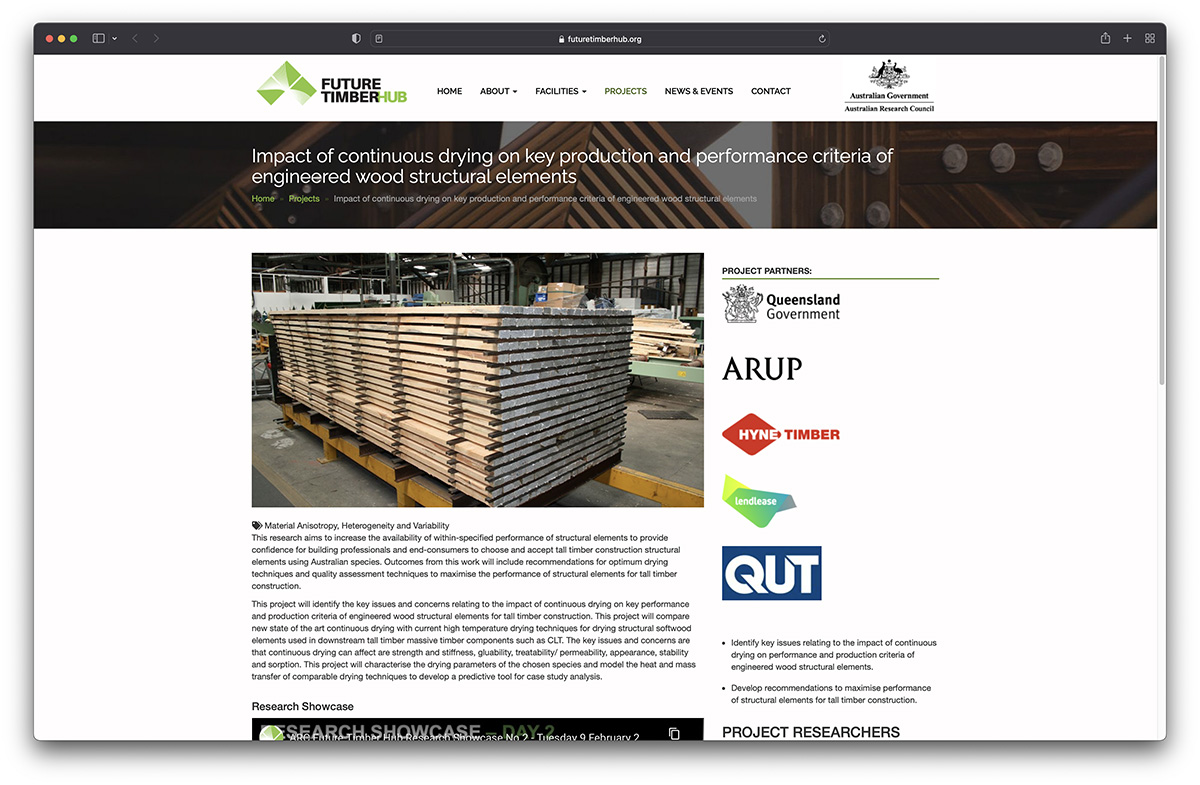 This work has the potential to lead to larger-scale collaborative projects.
As part of the collaboration on the continuous drying project, ACEMS researchers have developed a state-of-the-art drying model to predict temperature and moisture distributions of timber boards during kiln drying. The model will be helpful to optimise drying schedules to reduce drying defects and drying time, while achieving the target moisture content.

ACEMS researchers worked on a large-scale collaborative project with DAF and University of the Sunshine Coast (USC) to develop a virtual sawing approach that can predict the MOE of individual boards that can be obtained from a forest without cutting the trees. This research can significantly impact a mill's profitability, allowing them to match timber received from growers to the end product specification requirements, and reduce the risk of sawing logs from plots not producing suitable products.
Chandan Kumar – Senior Scientist, QDAF